TOURISM MALAYSIA MEDIA EXPLORE RACE (TOMER) 2023 ATTRACTS INTERNATIONAL PARTICIPATION TO PROMOTE TOURIST ATTRACTIONS IN PUTRAJAYA & SELANGOR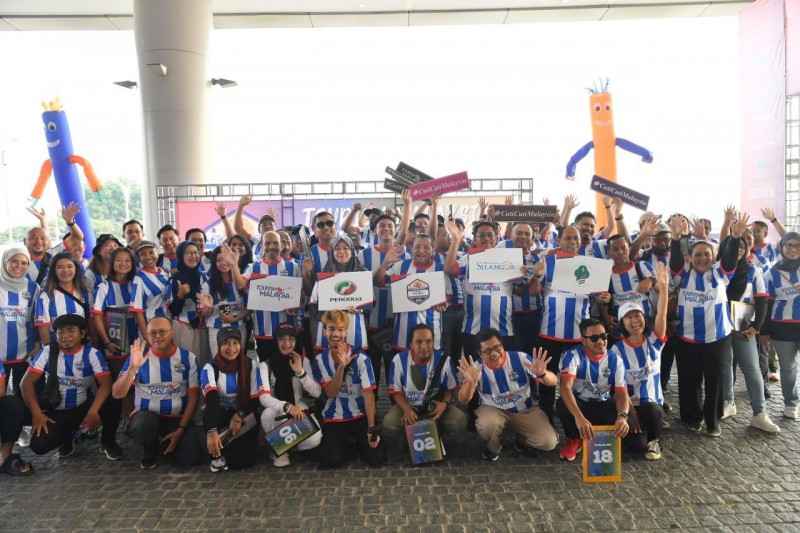 PUTRAJAYA, 8 November 2023 – The second edition of Tourism Malaysia Media Explore Race (TOMER) 2023 is back in collaboration with Perodua, Perbadanan Putrajaya and Tourism Selangor as strategic partners, attracting 80 media practitioners, including 18 international participants from Indonesia, Thailand, Singapore, the Philippines, and Brunei.
Held from 8 to 10 November 2023, the participants were flagged off by Dato' Dr Ammar Abd. Ghapar, Director-General of Tourism Malaysia, at the Putrajaya International Convention Centre (PICC) today. In this year's challenge, participants will embark on a treasure hunt and exploration of Putrajaya's landmarks and also explore the coastal areas of Selangor in groups while driving Perodua-sponsored cars. Additionally, they will create various tourism promotional content, including videos to be shared on social media.
Among the eight checkpoints along the Putrajaya route are Dataran Putra, Astaka Morocco, Wetland Studio, Nasyrul Quran Complex, Anjung Floria, Equestrian Park, Secret Garden Putrajaya, and Tangga Putrajaya. Tourism Malaysia also provides KL Hop-On Hop-Off bus services to allow participants to enjoy the colourful panoramic night view of Putrajaya.
In Selangor, participants will go through six checkpoints the following day, starting at Homestay Banghuris, Pantai Bagan Lalang, Pantai Morib, Pantai Kelanang, Istana Bandar Jugra, and the Mah Meri Cultural Village at Pulau Carey. The adventure mission will conclude in Shah Alam with an award presentation ceremony at Mardhiyyah Hotel & Suites.
Dato' Dr Ammar said: "The main objective of organising TOMER 2023 is to strengthen collaboration with mainstream and new media while providing extensive publicity and
coverage for the latest tourism products in and around Putrajaya and Selangor, encompassing natural and coastal attractions, heritage, arts and culture.
"As part of the government's commitment towards the success of Visit Malaysia Year 2026, Tourism Malaysia has undertaken various promotional and marketing activities to boost the contribution of the tourism sector to the nation's economic growth."
"Through the organisation of TOMER 2023, publicity for tourism products can be enhanced, in addition to strengthening public-private partnerships to make Malaysia a preferred tourism destination in the region," he said.
END
About Tourism Malaysia

Malaysia Tourism Promotion Board, also known as Tourism Malaysia, is an agency under the Ministry of Tourism, Arts & Culture Malaysia. It focuses on the specific task of promoting Malaysia as a preferred tourism destination. Since its inception, it has emerged as a major player in the international tourism scene.
The next Visit Malaysia Year, set to take place in 2026, will commemorate the sustainability of the nation's tourism industry, which is also in line with the United Nations Sustainable Development Goals (UNSDG).
Furthermore, Tourism Malaysia actively endorses the Indonesia-Malaysia-Thailand Growth Triangle (IMT-GT), working towards the realisation of the IMT-GT Visiting Year 2023-2025, with the shared aim of promoting the region as a unified tourism destination. For more information, visit Tourism Malaysia's social media accounts on Facebook,Instagram, Twitter, YouTube, and TikTok.
For enquiries, please contact:
Asmaul Abu Bakar
Senior Tourism Officer
Corporate Communications Division
asmaul@tourism.gov.my
Tel: +603 8891 8777

Muadz Samat
Assistant Director
Corporate Communications Division
muadz@tourism.gov.my
Tel: +603 8891 8755