FAM TRIP FOR VIETNAMESE TRAVEL AGENTS AND MEDIA TO BOOST TOURIST ARRIVALS FROM VIETNAM WITH BATIK AIR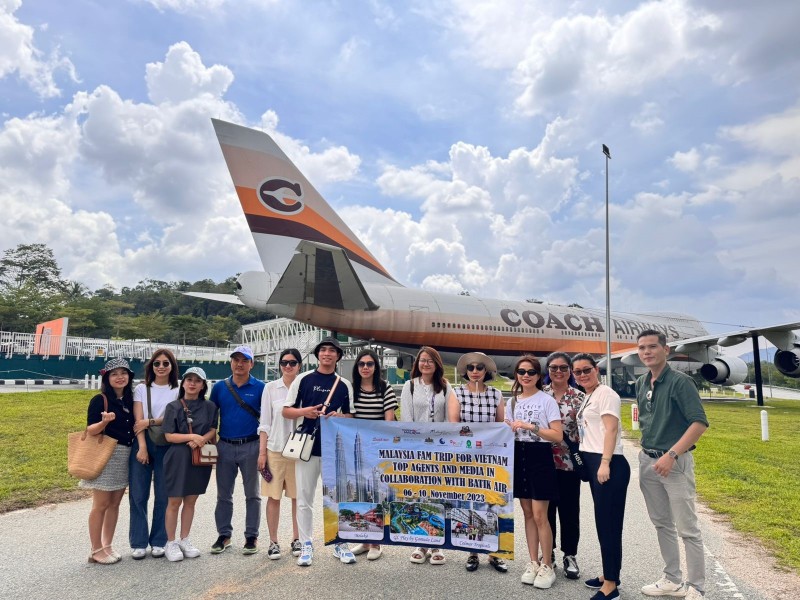 KUALA LUMPUR, 14 NOVEMBER 2023 – Tourism Malaysia Ho Chi Minh, in collaboration with Batik Air, organised a familiarisation trip in an effort to boost tourists from Vietnam. Nine (9) travel agents and one (1) media representative from Hanoi, Danang and Ho Chi Minh City participated in this five-day-four-night (5D4N) program held in Kuala Lumpur, Bukit Tinggi and Melaka, from 6th until 10th November 2023.
Among the highlighted places of interest in Kuala Lumpur were Independence Square, River of Life, Central Market, Saloma Bridge, Kwai Chai Hong and RexKL. At Bukit Tinggi, participants also had the chance to experience all the attractions, such as the Japanese village, Horse riding, Rabbit Park, and stay at Colmar Tropicale Berjaya Resort.
In Melaka, the participants were brought on a historical Melaka city tour. They also enjoyed exploring A'Famosa Resort Melaka and shopping at Freeport A'Famosa Outlet. At Gamuda Cove, the participants visited GL Play by Gamuda Lands. They enjoyed many activities at the theme parks, such as Safari Insta Tour, Boat Cruise and Goosebumps Ropes.
The fam trip was also sponsored by Longways Travel & Tours, ibis KLCC, Berjaya Hotels & Resorts, Tourism Melaka, A'Famosa Resort, GL Play by Gamuda Lands and AnCasa Hotel (KL).
Dato' Dr. Ammar Abd. Ghappar, the Director-General of Tourism Malaysia, said: "We look forward to welcoming more than 300,000 Vietnamese travellers to Malaysia this year. In the first half of 2023, Malaysia recorded 161,795 Vietnamese arrivals, thus reflecting strong pent-up demand in the post-pandemic, as Vietnam is one of the important markets for Malaysia's tourism industry."
"This year is the 50th anniversary of diplomatic ties between Malaysia and Vietnam. Malaysia and Vietnam have a strong bilateral link. This connectivity will certainly help
improve bilateral trade and tourist exchange between Malaysia and Vietnam, which has seen a significant increase in recent years," he added.
Madam Nor Hayati Zainuddin, Director of Tourism Malaysia in Vietnam, said: "With Batik Air, there will be more travel options for tourists to choose a flight to go to Malaysia that suits their travel needs. We hope the participating travel agents in this fam trip will keenly support us in selling tour packages to their customers in Vietnam and in promoting Malaysia as a safe, value-for-money, and preferred holiday destination."
Batik Air currently operates direct flights from Hanoi (HAN), Danang (DAD) and Ho Chi Minh City (SGN) to Kuala Lumpur (KUL). Promotional fare for one-way Economy Class between Ho Chi Minh City and Kuala Lumpur starts from USD69.00 (no Business Class). The fare is all-inclusive of free baggage allowance – 20kg for Economy Class travellers. The brand-new narrow-body Boeing 737-8 aircraft will be deployed on this route.
Malaysia is targeting to woo 16.1 million international tourist arrivals with a contribution of RM49.2 billion (USD 11.1 billion) in tourism receipts in 2023. Currently, there are 150 direct flights from Vietnam to Malaysia, and Tourism Malaysia is expecting exponential growth from the Vietnam market, including the Southeast Asia region.
END
About Tourism Malaysia

Malaysia Tourism Promotion Board, also known as Tourism Malaysia, is an agency under the Ministry of Tourism, Arts & Culture Malaysia. It focuses on the specific task of promoting Malaysia as a preferred tourism destination. Since its inception, it has emerged as a major player in the international tourism scene.
The next Visit Malaysia Year, set to take place in 2026, will commemorate the sustainability of the nation's tourism industry, which is also in line with the United Nations Sustainable Development Goals (UNSDG).
Furthermore, Tourism Malaysia actively endorses the Indonesia-Malaysia-Thailand Growth Triangle (IMT-GT), working towards the realisation of the IMT-GT Visiting Year 2023-2025, with the shared aim of promoting the region as a unified tourism destination. For more information, visit Tourism Malaysia's social media accounts on Facebook,Instagram, Twitter, YouTube, and TikTok.
For enquiries, please contact:
Nor Hayati Zainuddin
Director
Tourism Malaysia Ho Chi Minh office
norhayati@tourism.gov.my
Tel: +84 9626 70004

Muadz Samat
Assistant Director
Corporate Communications Division
muadz@tourism.gov.my
Tel: +603 8891 8755

Ðo Phan Vinh Hai
Marketing Manager
Tourism Malaysia Ho Chi Minh office
vinhhai@tourism.gov.my

Nguyen Vu Ái Nhu
Marketing Executive
Tourism Malaysia Ho Chi Minh office
ainhu@tourism.gov.my